We are Tall Order, a Bournemouth jazz band for weddings, corporate events and private functions...
 Are you looking for live music which creates a wonderful ambiance when guests arrive at your special event? A band that can play both background music so people can talk and also music to entice them to dance later on? Tall Order jazz band based in Bournemouth, Dorset may well be the band you are looking for.
Tall Order play a wide selection of jazz, and swing music. We have a repertoire which includes famous slow ballads such as 'The Way You Look Tonight', mid-tempo swing classics such as 'Fly Me To The Moon' and smoky blues like 'Georgia On My Mind'.
Since forming in July 2011 the duo has already gained a wealth of experience playing in a huge variety of venues, including jazz clubs, restaurants and some of the top bars in Dorset. These include:
Print Room Bournemouth
The Captains Club- For Liverpool Victoria (LV) 
The Royal Bath Hotel
The Green House Hotel
The Norfolk Royale Hotel
Pavilion Ballroom, Bournemouth
The Plantation
The Royal Motor Yacht Club
The BIC
Tall Order have even performed for Lady Carnarvon, owner of Downton Abbey...
 'I would like to thank you both for attending last nights event. You guys were absolutely fantastic and even though the evenings schedule didn't go according to plan due to run-over,  you were both fantastic. I know the guests thought you were sensational. Lady Carnarvon was speaking to me before she left and she mentioned how wonderful you were'
 Ben- Naomi House charity
 Why choose Tall Order Jazz band in Dorset?
We are unique. There just two of us, but we can provide you with a truly live sound which is intimate and stripped down on the slower songs, but sounds and feels like a full 11-piece band on the faster numbers.
We are friendly, professional and always flexible. If you want us to learn or play a particular song/songs for your special day then we are happy to accommodate your every need. Unlike some bands, we will not charge you for this.
We provide all our own high-quality equipment (safety checked) and can also provide you with suitable background music for in-between performance sets. You are also welcome to play your own music (through an ipod) on our speaker system.
We can set up in most venues within just 1 hour and require no more than an area of 3 by 2 m/s. No fuss and very versatile.
Other options available:
Singer, Kristian can also usually provide the following options for added flexibility and to suit all budgets.
Solo performance with backing tracks
Jazz quartet with sax, keys drums or bass
Jazz duo with sax, piano or guitar
What people are saying about Tall Order..
'Thank you so much for giving up your time today to come and 'serenade' our ladies.  They thoroughly enjoyed your music and it created a really good ambiance in the room. I will have no hesitation in passing on your details. Your generosity in coming along today will have helped us to raise well over £1000!'
 Di Shepherd of Julia's House
 'Dear Kristian and Dom. I would just like to thank you for performing at our party. Everyone loved your music and I really appreciate how much effort you put into the evening. You helped make our party an evening to remember for everyone.'
 Fiona Mckenna
Contact Tall Order jazz band in Dorset
 Phone Kristian on 0798 444 1710 or use the contact page above to find out more information and receive a quote.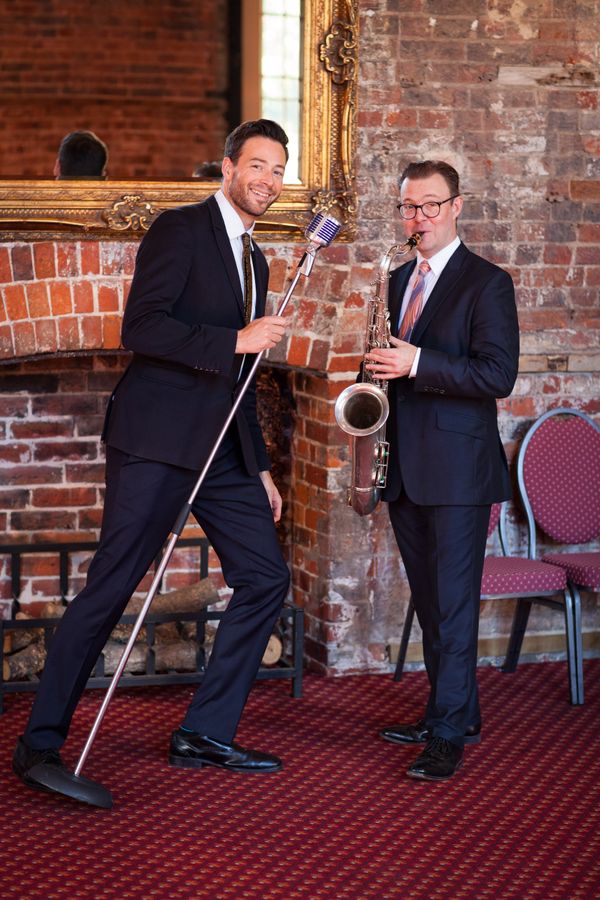 Subscribe to our mailing list
Salisbury , St Stephensons Road, Hampshire
Private jazz and swing performance for local corporate organisation
Live jazz and swing music for reception and DJ service late evening
Connect with Tall Order jazz band!